Serrano ham and cured pork shoulder
SERRANO HAM AND CURED PORK SHOULDER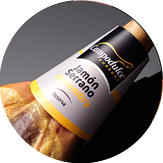 Our cerdo blanco (non-Iberian breed) ham and cured pork shoulders are made from the Duroc, Landrace, Large White and Pietrain pig breeds. The animals are reared on feed made from cereal crops that we cultivate ourselves.

Each individual product is digitally controlled to ensure full traceability. They are dried in one of the most modern drying facilities in Europe and individually salted in trays in order to guarantee uniformity.

After the elaborate salting, resting, drying and maturing process, the hams then go through a delicate ageing process in order to bring about controlled curing. They are cured for between five and 18 months, after which the resultant products, of excellent quality, are designated either serrano or curado.